---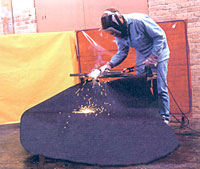 WeldShield welding blankets carry three ratings in degrees Fahrenheit for constant, intermittent and melt. These values will range from 1000 degrees constant to 1800 degree melt. The "constant" rating is intended to define the maximum temperature an object may be at and be in direct contact with the blanket. The "intermittent" rating (also referred to as excursion temp) is what the fabric can take for short exposures without damaging the cloth. The "melting" temp is the point where the fabric is physically damaged due to prolonged exposure to excessive heat.
WeldShield welding blankets are fabricated with high-temp thread and brass grommets every 2'; they are then individually poly bagged for ease in shipping, storage and handling. All stock sized blankets will run smaller in their finished dimensions by several inches due to the fabric lost in the hemming and seaming operations. Finished sized blankets may be ordered at an upcharge if final dimensions are critical.
WeldShield uncoated Fiberglass Blankets are available in 2 different weights: 18 oz/sy (WeldShield 1890 F-T) and 24 oz/sy (WeldShield 2490 F-W) and are considered by many to be the standard of the industry. WeldShield Fiberglass Blankets deliver the most utility for expense of any welding blanket line on the market today. Special Volume Discounts are offered for larger orders, including free freight! Contact us today at info@FireProofBlankets.com
---
Frequently Asked Questions
We have a requirement to put fire blankets around some semi-tires in our application. Our question is around how well does the material stand up to extended exposure to sunlight, water and freeze thaw cycles etc. Is it better to get a coated blanket for the environmental concern? Also after some fire exposure testing we may be requesting custom fit blankets for the longer application. Is that something you can do?
I would go with a coated fabric. An uncoated fiberglass or silica product could wick moisture and cause early breakdown of the fibers. Sunlight is no factor. As long as you are not talking cryogenic like temperatures, the cold should not have an effect on the blankets once they return to a reasonable temperature. They will get brittle at very low temperatures, below 32 degrees F, but would retain their resistance to slag, sparks, etc.